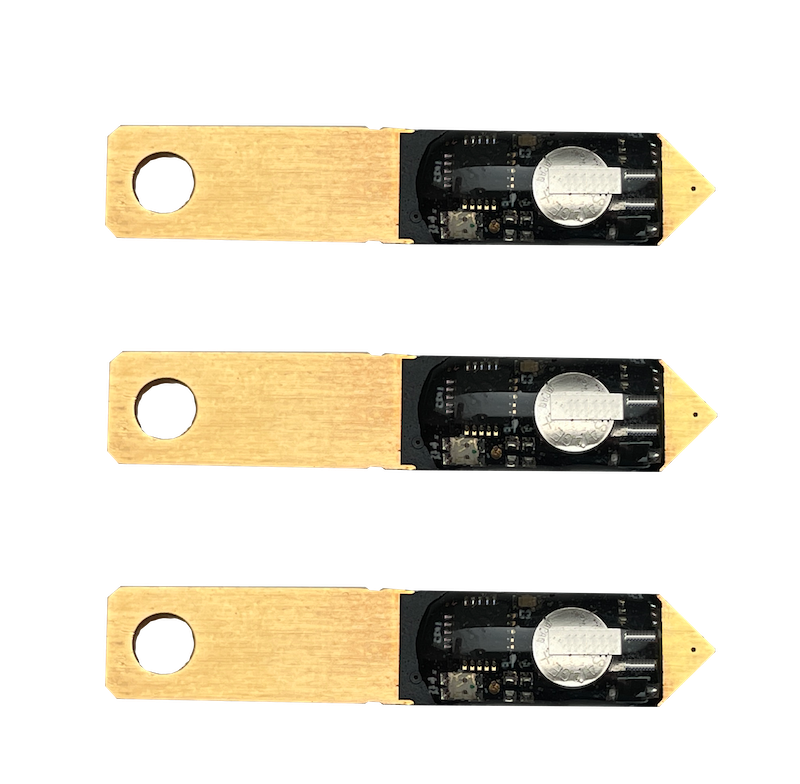 Volty Switch 3 Pack
$ 108.00 $ 150.00
 3 Pack Volty Switch
Volty Switch: a keychain multimeter. It is modeled after Leatherman's bit inserts. Put one on your keychain or click it into your Leatherman for instant readings.
Electronics encapsulated in epoxy for long tool life
Gold Plated Probe and Shank
Leatherman not required, use anything conductive to test batteries!
Use at your own risk, wear proper safety gear especially with big batteries or high amperage outputs!
Onboard Rechargeable Battery
Water resistant, do not use when wet!
Auto switching between modes: AC/DC/TEMP/CONTINUITY/EMF
Low Voltage DC Tester (1V - 30VDC):
AA, AAA, C, D, 9V, Coin Cells, 4.2V Lithium, 12V or 24V DC Lead Acid Systems
0.1V measurement resolution
Reverse polarity protection up to 30V DC
Voltages above 3V will charge the onboard battery
Green Blinks = 10V/ea.
Yellow Blinks = 1V/ea.
Red Blinks = 0.1V/ea.
Use a metal key from your keychain as ground to get precise DC measurements:
Above: In this example, the metal key and metal key ring complete the ground part of the circuit to the base of Volty Switch.
Low Voltage AC Tester (5-24VAC):
Auto Switching between AC and DC.
Testing AC sources above 24VAC is dangerous and can lead to electric shock and will permanently damage volty switch!
Accuracy +/- 1VAC
Used primarily in HVAC, CCTV Security, Access Control and More!
Above: in this example a screwdriver with an insulated handle and conductive shaft along with alligator clip test lead, completes one leg of the circuit. Wear protective gear while testing any device that shares a grid connection!
Test fuses, cables, HVAC ignitors and more:

Volty Switch stores nicely in most leatherman multi tool bit holders:
Volty protection sheath with grippy end included:
HVAC temperatures in both C and F:
Stores and displays the highest or lowest temperature reading since boot.
Temperature Reading Range: 0F - 140F (-18C - 60C)
Can be calibrated in 1 degree increments but don't expect perfect readings across the entire testing range.
"Sparky" detects most unshielded energized cables (At your own risk, wear proper safety gear!):
Detect if a spark plug wire is firing.
Detect 50/60hz and other high intensity EMFs.
Paranormal Research Applications ;)
Never rely on Sparky EMF to provide accurate or repeatable readings.
Coil on Spark Plug Firing:
Unshielded Extension Cord (Experimental):
Identify Switch Terminals:
Quickly identify blown 12V system fuses with "body mode":
Above: Use the tip of Volty Switch to touch ground and your other finger to touch a low voltage potential to illuminate RED (18V DC Max)
Volty switch's battery automatically recharges itself any time you test a battery above 3V:
Above: A 9V Battery is charging Volty Switch's onboard battery. 2 Hours = 100% top off. Make sure to turn the switch to the off position when charging is finished.
Rechargeable Onboard Battery:

100% DOD Tolerant.
To keep your onboard battery in good condition, please charge it at least once per year.
The switch on the back physically disconnects the battery to prevent self discharge.
Volty should be powered off and stored properly after taking readings to extend the working life of the onboard battery.
Recharge the battery by turning the switch on and connecting any 3-18V DC source and wait 2 hours before disconnecting.
Leatherman Compatibility:
We are shipping volty with an "untrimmed" shank. We made volty slightly larger than it needs to be due to manufacturing tolerances in printed circuit boards. You will need to trim one of the 4 edges of volty's shank with a file or knife edge to get a proper fit that "clicks" into a leatherman bit holder. So far we have confirmed compatibility with the following models:
Leatherman Signal
Leatherman Wave
Leatherman Charge
Leatherman Skeletool (Won't articulate, but still good for testing larger batteries).
Leatherman Surge
Leatherman Bit Extender
Volty should fit pretty much any leatherman with a bit holder, some slight trimming may be required.